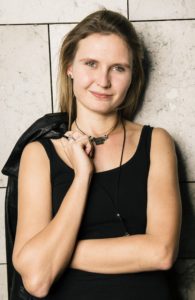 PERSONAL INFORMATION
Name

Malgorzata Wislowska (aka. Gosia) 😉

Current Position

PhD student at Univeristy of Salzburg

Address

Hellbrunner Straße 34
5020 Salzburg, Austria
0043-662-8044-5137
malgorzata.wislowska[at]sbg.ac.at

Web page

www.sleepscience.at

Research Gate

www.researchgate.net/profile/Malgorzata_Wislowska

ORCID ID

0000-0001-9272-349X

Scopus Author ID

56698250900

h-index

7

Scientific Interests

What makes my scientific heart beat faster are brain oscillations, and this is what I'm trying to get grip on during my phd. Together with my colleagues we look at information processing during states of altered consciousness; that includes natural variations from wakefulness to sleep, disordered states in patients recovering from a severe brain injury, as well as developing cognition and awareness in newborns.
---
EDUCATION & EMPLOYMENT
| | |
| --- | --- |
| 09/2018 – 02/2019 | Research Stay at University of Birmingham; Supervisor: Prof. Ole Jensen. |
| 02/2016 – ongoing | PhD Program 'Imaging the Mind' at the Doctoral College DK+, University of Salzburg, Austria (FWF: W1233-G17); Supervisor: Univ.-Prof. Dr. Manuel Schabus. |
| 09/2015 – 01/2016 | Technical Assistant of the EEG Unit at the Centre for Cognitive Neuroscience (CCNS), University of Salzburg, Austria. |
| 12/2015 | Graduation with Master of Science (M.Sc.) in Brain Imaging (Cognitive Neuroscience) with distinction; awarded by the University of Nottingham, Nottingham, UK. |
| 09/2014 – 09/2015 | Master Program in Brain Imaging at the University of Nottingham, UK. |
| 08/2013 – 09/2014 | Research and Teaching Assistant at the University of Salzburg, Austria (FWF-Project: I00934). |
| 10/2012 – 07/2013 | Study Assistant at the University of Salzburg, Austria (FWF-Project: I00934). |
| 09/2012 – 04/2014 | Extraordinary Student at the University of Salzburg, Austria. |
| 09/2012 | Graduation with Bachelor of Science (B.Sc.) in Cognitive Science; awarded by Nicolaus Copernicus University, Torun, Poland. |
| 04/2012 – 09/2012 | Research Assistant at the University of Salzburg, Austria. |
| 10/2011 – 09/2012 | Erasmus Scholarship at the University of Salzburg, Austria. |
| 10/2009 – 07/2012 | Bachelor Program in Cognitive Science at Nicolaus Copernicus University in Torun, Poland. |
| 04/2008 | Graduation from High School nr 10 in Cracow, Poland. |
---
TALKS
| | |
| --- | --- |
| 06/2019 | M/EEG Evidence for Probing Environmental Information During Sleep. Talk presented at the 23rd annual meeting of the Association for Scientific Study of Consciousness (ASSC), London, Ontario, Canada, June 25th – 28th 2019. |
| 09/2018 | The Sleeping Brain Not Only Monitors the Environment, But Also Detects Relevant Information. Talk presented at the 24th Congress of the European Sleep Research Society (ESRS), Basel, Switzerland, September 25th – 28th 2018. |
| 06/2018 | Oscillatory Responses to Own Name Persist During Sleep. Talk presented at the 22nd annual meeting of the Association for Scientific Study of Consciousness (ASSC), Cracow, Poland, June 26th – 29th 2018. |
| 05/2018 | Sleep Spindle Indicate Recovery from Severe Brain Injury. Talk was presented at the 2nd International Conference on Sleep Spindling and Related Phenomena, Budapest, Hungary, May 24th – 26th 2018. |
| 03/2017 | Diurnal Changes of Oscillatory Brain Activity in DOC Patients. Talk presented at the 3rd Wintersymposium 'Sleep, Cognition and Consciousness', Kaprun, Austria, March 2nd – 5th 2017. |
| 09/2016 | Circadian Changes of Oscillatory Brain Activity in Patients with Disorders of Consciousness. Talk presented at the 23rd Congress of the European Sleep Research Society (ESRS), Bologna, Italy, September 13th – 16th 2016. |
| 02/2015 | Sleep Dependent Declarative Memory Consolidation. Talk presented in the internal seminar, the University of Nottingham, Nottingham, UK, 24th February 2015. |
| 01/2015 | Recovery of Consciousness and Circadian Changes of Brain States. Talk presented at 2nd Wintersymposium 'Sleep, Cognition and Consciousness', Kaprun, Austria, January 22nd – 25th 2015. |
| 09/2014 | Factors Influencing Mechanisms Supporting Overnight Declarative Memory Consolidation. Talk presented at the 22th Congress of the European Sleep Research Society (ESRS), Tallinn, Estonia, September 16th – 20th 2014. |
| 12/2012 | Neurofeedback for Improving Sleep and Memory. Talk presented at "Sleep, Cognition and Consciousness" Symposium, Salzburg, Austria, December 13th – 14th 2012. |
| 09/2012 | Single Subject Analysis in DOC – Familiar Voice Task. Talk presented at "Oscillations and Consciousness" Workshop, Strobl, Austria, September 28th – 29th 2012. |
---
PUBLICATIONS
| | |
| --- | --- |
| 2019 | Wielek, T., del Giudice, R., Lang, A., Wislowska M., Ott, P. & Schabus, M. (2019). On the development of sleep states in the first weeks of life. PloS ONE, 14(10): e0224521. DOI: doi.org/10.1371/journal.pone.0224521. |
| 2018 | Wislowska M., Blume, C., Angerer M., Wielek, T. & Schabus, M. (2018). Approaches to Sleep in Brain Damaged Patients – Reply to Kotchoubey & Pavlov. Clinical Neurophysiology, 129(12), 2680-81. DOI: doi.org/10.1016/j.clinph.2018.08.029. |
| | Schabus M., Wislowska M., Angerer M., Blume C. (2018). Sleep and Circadian Rhythms in Severely Brain-Injured Patients – A Comment. Clinical Neurophysiology, 129(8), 1780-84. DOI: doi.org/10.1016/j.clinph.2018.03.048. |
| | Blume, C., del Giudice, R., Wislowska, M., Heib, D.P.J. & Schabus, M. (2018). Standing sentinel during sleep: continued evaluation of environmental stimuli in the absence of consciousness. NeuroImage, 178, 638-648. DOI: 10.1016/j.neuroimage.2018.05.056. |
| | Wielek, T., Lechinger, J., Wislowska, M., Blume, C., Ott, P., Wegenkittl, S., del Giudice, R., Mayer, H., Laureys, S., Pichlar, G. & Schabus, M. (2018). Sleep in patients with disorders of consciousness characterized by means of machine learning. PLoS ONE, 13(1), e0190458. DOI: 10.6084/m9.figshare.5669641. |
| | Wislowska, M. & Schabus, M. (2018). What can we learn about brain functions from sleep EEG? Insights from sleep of DOC patients. In C. Schnakers, & S. Laureys (Eds), Coma and Disorders of Consciousness. London, UK: Springer-Press. Link |
| 2017 | Wislowska, M., del Giudice, R., Lechinger, J., Wielek, T., Heib, D.P.J., Pitiot, A., Pichler, G., Michitsch, G., Donis, J. & Schabus, M. (2017). Night and day variations of sleep in patients with disorders of consciousness. Scientific Reports, 7(1), 266. DOI: 10.1038/s41598-017-00323-4. |
| | Schabus, M., Griessenberger, H., Gnjezda, M.T., Heib, D.P.J., Wislowska, M. & Hoedlmoser, K. (2017). Better than sham? A double-blind placebo-controlled neurofeedback study in primary insomnia. Brain. DOI: 10.1093/brain/awx011. |
| 2016 | Wislowska, M., Heib, D.P.J., Griessenberger, H., Hoedlmoser, K. & Schabus, M. (2016). Individual baseline memory performance and its significance for sleep-dependent memory consolidation. Sleep Spindles & Cortical Up States: A Multidisciplinary Journal, 1(1), 2-13. DOI: 10.1556/2053.1.2016.001. |
| | del Giudice, R., Blume, C., Wislowska, M., Wielek T., Heib, D.P.J. & Schabus, M. (2016). The voice of anger: oscillatory EEG responses to emotional prosody. PloS ONE, 11(7), e0159429. DOI: 10.1371/journal.pone.0159429. |
| | del Giudice, R., Blume, C., Wislowska, M., Lechinger, J., Heib, D.P.J., Pichler, G., Donis, J., Michitsch, G., Gnjezda, M.T., Chinchilla, M. & Schabus, M. (2016). Can self-relevant stimuli help assessing patients with disorders of consciousness? Consciousness and Cognition, 44, 51-60. DOI: 10.1016/j.concog.2016.06.013. |
| | Blume, C., del Giudice, R., Lechinger, J., Wislowska, M., Heib, D.P.J., Hoedlmoser, K. & Schabus, M. (2016). Preferential processing of emotionally and self-relevant stimuli persists in unconscious N2 sleep. Brain and Language. DOI: 10.1016/j.bandl.2016.02.004. |
| 2015 | Blume, C., Lechinger, J., del Giudice, R., Wislowska, M., Heib, D.P.J. & Schabus, M. (2015). EEG oscillations reflect the complexity of social interactions in a non-verbal social cognition task using animated triangles. Neuropsychologia, 57, 330-340. DOI: 10.1016/j.neuropsychologia.2015.06.009. |
| | Blume, C.*, del Giudice, R.*, Wislowska, M.*, Lechinger, J., & Schabus, M. (2015). Across the consciousness continuum – from unresponsive wakefulness to sleep. Frontiers in Human Neuroscience, 9. DOI: 10.3389/fnhum.2015.00105. |
| 2014 | Wislowska, M.*, del Giudice, R.* & Schabus, M. (2014). Searching for neuronal correlates of consciousness – What do we learn from coma and disorders of consciousness. Journal of Functional Neurology, Rehabilitation, and Ergonomics, 4(2-3), 135-147. Link |
| | del Giudice, R., Lechinger, J., Wislowska, M., Heib, D.P.J., Hoedlmoser, K. & Schabus, M. (2014). Oscillatory brain responses to own names uttered by unfamiliar and familiar voices. Brain Research, 1593, 63-73. DOI: 10.1016/j.brainres.2014.09.074. |
| | Voinescu, B. I., Wislowska, M. & Schabus, M. (2014). Assessment of SOMNOwatch plus EEG for sleep monitoring in healthy individuals. Physiology and Behavior, 132, 73-78. DOI: 10.1016/j.physbeh.2014.04.052. |
| | del Giudice, R.*, Wislowska, M.* & Schabus, M. (2014). Current Neuroscientific Progress in Disorder of Consciousness Research. In Herzong, E.M., Bauer H.C. & Lametschwandtner, A. (Eds.), Blickpunkt: Leben. Am Rande des Daseins? (pp. 29-46). Salzburg, SL: Norderstedt. |
| 2013 | Wislowska, M., Werner, G. G., Moeckel, T., Heib, D. P. J., Hoedlmoser, K., & Schabus, M. (2013). Sleep, Memory and Emotions. In Mohiyeddini, C., Eysenck, M., & Bauer, S. (Eds.), Handbook of Psychology of Emotions: Recent Theoretical Perspectives and Novel Empirical Findings (Vol. 1, pp. 505-516). New York, USA: Nova Publishers. Link |
---
POSTERS
presenting author underlined
| | |
| --- | --- |
| 07/2019 | Wislowska, M., Blume, C., Weisz, N. & Schabus, M. (2019). On the role of sigma activity for information processing during sleep. Poster presented at 3rd Salzburg Mind-Brain Annual Meeting (SAMBA), Salzburg, Austria, July 10th – 11th 2019. |
| 05/2018 | Wislowska, M., Blume, C. & Schabus, M. (2019). Sleep-specific sigma response to auditory stimuli. Poster presented at 28th Annual meeting of the Austrial Sleep Research Association (ASRA), Gmunden, Austria, May 2nd – 4th 2019. |
| 09/2018 | Angerer, M., Blume, C., Raml, M., Wislowska, M., Kunz, A., Trinka, E., Pichler, G. & Schabus, M. (2018). Heart rate variability and its circadian variation in patients with disorders of consciousness: a diagnostic tool?. Poster presented at the 24th Congress of the European Sleep Research Society (ESRS), Basel, Switzerland, September 25th – 28th 2018. |
| 07/2018 | Wislowska, M., Blume, C., Michalak, A., Weisz, N. & Schabus, M. (2018). Even the sleeping brain discerns relevant information. Poster presented at the 2nd Salzburg Mind-Brain Annual Meeting (SAMBA), Salzburg, Austria, July 12th – 13th 2018. |
| 07/2018 | Wielek, T., Lang, A., del Giudice, R., Scholle, S., Wislowska, M., Ott, P. & Schabus, M. (2018). Machine learning for classifying sleep in newborns. Poster presented at the 2nd Salzburg Mind-Brain Annual Meeting (SAMBA), Salzburg, Austria, July 12th – 13th 2018. |
| 07/2018 | Angerer, M., Blume, C., Raml, M., Wislowska, M. & Schabus, M. (2018). Can heart rate variability contribute to the differential diagnosis of disorders of consciousness? Poster presented at the 2nd Salzburg Mind-Brain Annual Meeting (SAMBA), Salzburg, Austria, July 12th – 13th 2018. |
| 04/2018 | Wislowska, M., Blume, C. & Schabus, M. (2018). Processing of relevant auditory stimuli during sleep. Poster presented at 27th Annual meeting of the Austrial Sleep Research Association (ASRA), Fuschl am See, Austria, April 6th – 7th 2018. |
| 08/2017 | Wislowska, M., Veale, T., Schabus, M. & Bauer, M. (2017). Optimizing perception through dynamic modulation of effective connectivity in the brain. Poster presented at Coupling & Causality in Complex Systems conference, Cologne, Germany, September 25th – 27th 2017. |
| 08/2017 | Wislowska, M., Veale, T., Schabus, M. & Bauer, M. (2017). Prior expectations and sensory information interact in a Bayes-optimal way during perception. Poster presented at 13th International Conference on Cognitive Neuroscience (ICON), Amsterdam, The Netherlands, August 5th – 9th 2017. |
| 08/2017 | Ott, P., Lang, A., del Giudice, R., Wislowska, M. & Schabus, M. (2017). Influence of prenatally learned maternal voice characteristics in oscillatory brain responses of infants. Poster presented at 13th International Conference on Cognitive Neuroscience (ICON), Amsterdam, The Netherlands, August 5th – 9th 2017. |
| 08/2017 | Wielek, T., Blume, C., del Giudice, R., Wislowska, M. & Schabus, M. (2017). Decoding brain responses to own names uttered by familiar and unfamiliar voices. Poster presented at 13th International Conference on Cognitive Neuroscience (ICON), Amsterdam, The Netherlands, August 5th – 9th 2017. |
| 07/2017 | Wislowska, M., Veale, T., Schabus, M. & Bauer, M. (2017). Dynamics of Brain Oscillations During Bayesian Perception. Poster presented at 1st Salzburg Mind-Brain Annual Meeting (SAMBA), Salzburg, Austria, July 13th – 14th 2017. |
| 06/2017 | Wislowska, M., Veale, T., Schabus, M. & Bauer, M. (2017). Visual Perception Shaped by Top-down and Bottom-up Information. Poster presented at 3rd Symposium on cutting-edge methods for EEG research (CuttingEEG), Glasgow, United Kingdom, June 19th – 22nd 2017. |
| 09/2016 | Wielek, T., Ott, P., Lechinger, J., Wislowska, M., Wegenkittl, S., & Schabus, M. (2016). EEG complexity combined with machine learning – sleep-wake patterns detection in patients with disorders of consciousness. Poster presented at the 23rd Congress of the European Sleep Research Society (ESRS), Bologna, Italy, September 13th – 16th 2016. |
| 09/2016 | Blume, C., del Giudice, R., Wislowska, M., Heib, D.P.J., Hoedlmoser, K. & Schabus, M. (2016). Privileged processing of emotional and self-relevant stimuli persists in unconscious N2 sleep. Poster presented at the 23rd Congress of the European Sleep Research Society (ESRS), Bologna, Italy, September 13th – 16th 2016. |
| 09/2016 | Schabus, M., Wislowska, M., del Giudice, R., Lechinger, J., Chwala-Schlegel, N., Pitiot, A., Heib, D.P.J., Chinchilla, M. & Machado, C. (2016). Circadian fluctuations of EEG and graphoelements during sleep in patients with disorders of consciousnss. Poster presented at the 18th world congress of the International Organization of Psychophysiology (IOP), Havana, Cuba, August 31st – September 4th 2016. |
| 06/2016 | Wislowska, M., del Giudice, R., Lechinger, J., Chwala-Schlegel, N., Pitiot, A., Heib, D. & Schabus, M. (2016). Circadian Fluctuations of Arousal in Patients with Disorders of Consciousness. Poster presented at the 20th Annual Meeting of the Association for the Scientific Study of Consciousness (ASSC), Buenos Aires, Argentina, June 15th – 18th 2016. |
| 06/2016 | del Giudice, R., Wislowska, M., Lithari, C., Lang, A., Calvet, C., Weisz, N. & Schabus, M. (2016). Oscillatory brain activity to prenatally learned nursery rhymes in two and five weeks new-born. Poster presented at the 20th annual meeting of the Association for the Scientific Study of Consciousness (ASSC), Buenos Aires, Argentina, June 15th – 18th 2016. |
| 06/2016 | Schabus, M., Wielek, T., Wislowska, M., Ott, P., Lechinger, J. & Wegenkittl, S. (2016). Day-night variations of EEG complexity in patients with disorders of consciousness. Poster presented at the 20th annual meeting of the Association for the Scientific Study of Consciousness (ASSC), Buenos Aires, Argentina, June 15th – 18th 2016. |
| 09/2015 | Wislowska, M., Veale, T. & Markus, B. (2015). The Role of Prior Expectations and Sensory Information in the Visual Perception. Poster presented at the Annual Scientific Meeting of the British Association for Cognitive Neuroscience (BACN), Colchester, United Kingdom, September 10th – 11th 2015. |
| 09/2015 | Veale, T., Wislowska, M. & Markus, B. (2015). Decision Making Under Uncertainty and Causal Manipulation of Bottom-up and Top-down Pathways. Poster presented at the Annual Scientific Meeting of the British Association for Cognitive Neuroscience (BACN), Colchester, United Kingdom, September 10th – 11th 2015. |
| 07/2015 | Wislowska, M., del Giudice, R., Lechinger, J., Chwala-Schlegel, N., Laureys, S. & Schabus, M. (2015). Circadian Changes of EEG Brain Activity in Patients with Disorders of Consciousness. Poster presented at the 19th Annual Meeting of the Association for the Scientific Study of Consciousness (ASSC), Paris, France, July 7th – 10th 2015. |
| 07/2015 | Wielek, T., Lechinger, J., Wislowska, M., Hodlmoser, K., Mayer, H. & Schabus, M. (2015). Artificial neural networks – a promising tool for sleep staging in healthy individuals and clinical populations. Poster presented at the 19th Annual Meeting of the Association for the Scientific Study of Consciousness (ASSC), Paris, France, July 7th – 10th 2015. |
| 07/2015 | Schabus, M., del Giudice, R., Blume, C., Lechinger, J., Wislowska, M., Gnjezda, M.-T. & Hoedlmoser, K. (2015). The voice of anger: Emotional prosody across the consciousness continuum. Poster presented at the 19th Annual Meeting of the Association for the Scientific Study of Consciousness (ASSC), Paris, France, July 7th – 10th 2015. |
| 07/2015 | Blume, C., del Giudice, R., Wislowska, M., Lechinger, J., Heib, D.P.J., Koerner, D., Hoedlmoser, K. & Schabus, M. (2015). Emotion matters! Effects of emotional prosody on stimulus processing across consciousness states. Poster presented at the 19th Annual Meeting of the Association for the Scientific Study of Consciousness (ASSC), Paris, France, July 7th – 10th 2015. |
| 09/2014 | Schabus, M., Griessenberger, H., Heib, D.P.J., Wislowska, M. & Hoedlmoser, K. (2014). Sleep-dependent memory consolidation and SMR neurofeedback – A double-bling study in primary insomnia. Poster presented at the 22th Congress of the European Sleep Research Society (ESRS), Tallinn, Estonia, September 16th – 20th 2014. |
| 08/2014 | Schabus, M., Lechinger, J., Jiang, H., Heib, D., Wislowska, M. & Jensen, O. (2014). Source reconstruction of slow and fast sleep spindles using a frequency-domain beamformer approach – A MEG/EEG study. Paper presented at the 19th International Conference on Biomagnetism (BIOMAG), Halifax, Canada, August 24th -26th 2014. |
| 07/2014 | del Giudice, R., Lechinger, J., Wislowska, M., Heib, D.P.J., Hoedlmoser, K. & Schabus, M. (2014). If you keep ignoring me I'll get angry: Emotional prosody detection in disorders of consciousness. Poster presented at the 9th FENS forum of neuroscience, Milan, Italy, July 5th – 9th 2014. |
| 06/2014 | Wislowska, M., Heib, D. P. J., Hoedlmoser, K., Griessenberger, H. & Schabus, M. (2014). Memory Capacity Influences Overnight Consolidation of a Declarative Material. Poster presented at the 20th Annual Meeting of the Organisation for Human Brain Mapping (OHBM), Hamburg, Germany, June 8th – 12th 2014. |
| 06/2014 | Schabus, M., Griessenberger, H., Heib, D.P.J., Koerner, D., Wislowska, M. & Hoedlmoser, K. (2014). Sleep-dependent memory consolidation in insomnia – A long-term study. Poster presented at the 20th Annual Meeting of the Organisation for Human Brain Mapping (OHBM), Hamburg, Germany, June 8th – 12th 2014. |
| 06/2014 | del Giudice, R., Lechinger, J., Wislowska, M., Heib, D.P.J., Hoedlmoser, K. & Schabus, M. (2014). The voice of anger: Emotional prosody to assess patients with altered states of consciousness. Poster presented at the 20th Annual Meeting of the Organisation for Human Brain Mapping (OHBM), Hamburg, Germany, June 8th – 12th 2014. |
| 06/2014 | Blume, C., Lechinger, J., del Giudice, R., Wislowska, M. & Schabus, M. (2014). Are you mocking me!? EEG responses during an animated "Theory of Mind" paradigm. Poster presented at the 20th Annual Meeting of the Organisation for Human Brain Mapping (OHBM), Hamburg, Germany, June 8th – 12th 2014. |
| 10/2013 | del Giudice, R., Lechinger, J., Wislowska, M., Heib, D.P.J., Koerner, D. Hoedlmoser, K. & Schabus, M. (2013). Can we tackle attention in disorders of consciousness? Validation of a new paradigm to assess patients with altered states of consciousness. Poster presented at the Rovereto Attention Workshop (RAW 2013), Rovereto, Italy, October 24th – 26th 2013. |
| 09/2013 | Wislowska, M., Heib, D. P. J., Hoedlmoser, K., Griessenberger, H. & Schabus, M. (2013). Mechanisms Underlying Declarative Memory Consolidation in Different Age Groups. Poster presented at the 5th congress of the World Association of Sleep Medicine (WASM), Valencia, Spain, September, 28th – October, 2nd 2013. |
| 09/2013 | Wislowska, M., Heib, D. P. J., Hoedlmoser, K., Griessenberger, H. & Schabus, M. (2013). Mechanisms Underlying Declarative Memory Consolidation in Different Age Groups. Poster presented at the Symposium in the Honour of Prof. Wolfgang Klimesch: Brain Oscillations and Cognition, Salzburg, Austria, September, 19th – 20th 2013. |
| 05/2013 | Wislowska, M., Heib, D. P. J., Griessenberger, H., Hoedlmoser, K., Lechinger, J. & Schabus, M. (2013). Age Matters! Sleep-Dependent Memory Consolidation in Disturbed Sleep. Poster presented at the 5th Dubrovnik Conference on Cognitive Science (DuCog), Dubrovnik, Croatia, May 16th – 19th 2013. |
| 05/2013 | del Giudice, R., Wislowska, M., Lechinger, J., Chwala-Schlegel, N., Laureys, S. & Schabus, M. (2013). Sleep in Disorders of Consciousness – A preliminary evaluation. Poster presented at the 5th Dubrovnik Conference on Cognitive Science (DuCog), Dubrovnik, Croatia, May 16th – 19th 2013. |
| 06/2012 | Schabus, M., Pelikan, C., Wislowska, M., Lechinger, J., Chwala-Schlegel, N., Weilhart, K., Roehm, D., Donis, J., Pichler, G. & Klimesch, W. (2012). Osciallatory brain activity in vegetative and minimally conscious state during a sentence comprehension task. Poster presented at the 5th International Conference on Cognitive Science, Kaliningrad, Russia, June 19th – 23rd 2012. |
---
TEACHING EXPERIENCE
| | |
| --- | --- |
| 2018 | Lecture: "Cognitive and Biological Psychology" for bachelor students (supervised teaching). |
| 2017 | Empirical Seminar: "Sleep, Cognition & Consciousness" for master students (supervised teaching). |
| 2017 | Workshops "Introduction to Source Reconstruction in M/EEG Data" for PhD students. |
| 2016 | Co-Supervision of a Master Thesis: "Resting State Connecitvity Across Consciousness States". |
---
SCHOLARSHIPS & AWARDS
| | |
| --- | --- |
| 2019 | Second Poster Price at 28th ASRA Meetings (Gmunden, Austria). |
| 2016 | NaWi Science Day 2016 Young Investigator Award Finalist at University of Salzburg (Salzburg, Austria). |
| 2014 | European Union Master Scholarship at the University of Nottingham (Nottingham, Great Britain). |
| 2011 | Scholarship for the Best Students at the Nicolas Copernicus University (Torun, Poland). |
| 2010 | Scholarship for Academic Performance at the Nicolas Copernicus University (Torun, Poland). |
---
ATTENDED CONFERENCES, SYMPOSIA & WORKSHOPS
| | |
| --- | --- |
| 09/2019 | Summer School: The Visceral Mind, Bangor, United Kingdom, September 2nd – 6th 2019. |
| 08/2019 | Workshops: Linear Algebra for Neuroscientists, Nijmegen, Netherlands, August 12th – 16th 2019. |
| 08/2019 | Workshops: Analyzing Neural Time Series Data, Nijmegen, Netherlands, August 5th – 9th 2019. |
| 07/2019 | Conference: 3rd Salzburg Mind-Brain Annual Meeting (SAMBA), Salzburg, Austria, July 10th – 11th 2019. |
| 06/2019 | Conference: 23rd Annual Meeting of the Association for Scientific Study of Consciousness (ASSC), London, Ontario, Canada, Juny 26th – 28th 2019. |
| 05/2019 | Meeting: 28th Annual Meeting of the Austrial Sleep Research Association (ASRA), Gmunden, Austria, May 2nd – 4th 2019. |
| 09/2018 | Conference: 24th Congress of the European Sleep Research Society (ESRS), Basel, Switzerland, September 25th – 28th 2018. |
| 09/2018 | Conference: Replay@CUBRIC 2018, Cardiff, United Kingdom, September 13th – 14th 2018. |
| 07/2018 | Conference: 2nd Salzburg Mind-Brain Annual Meeting (SAMBA), Salzburg, Austria, July 12th – 13th 2018. |
| 06/2018 | Conference: 22nd Annual Meeting of the Association for Scientific Study of Consciousness (ASSC), Cracow, Poland, June 26th – 29th 2018. |
| 05/2018 | Conference: 2nd International Conference on Sleep Spindling and Related Phenomena, Budapest, Hungary, May 24th – 26th 2018. |
| 05/2018 | Symposium: Inaugural MEG Symposium at the Centre for Human Brain Health, Birmingham, United Kingdom, May 11th 2018. |
| 05/2018 | Workshop: London SPM Course for EEG and MEG, London, United Kingdom, May 7th – 9th 2018. |
| 04/2018 | Meeting: 27th Annual Meeting of the Austrial Sleep Research Association (ASRA), Fuschl am See, Austria, April 6th – 7th 2018. |
| 01/2018 | Winter School: 3rd Annual DK 'Imaging the Mind' Winter School, 'Foundations of Cognitive Neuroscience', Gersberg, Austria, January 8th – 9th 2018. |
| 12/2017 | Symposium: Sleep and (Gross-) Motor Learning, Salzburg, Austria, December 6th – 7th 2017. |
| 11/2017 | Workshop: Scientific Writing, Salzburg, Austria, October 10th – 13th 2017. |
| 09/2017 | Conference: Coupling & Causality in Complex Systems conference, Cologne, Germany, September 25th – 27th 2017. |
| 08/2017 | Conference: 13th International Conference on Cognitive Neuroscience (ICON), Amsterdam, The Netherlands, August 5th – 9th 2017. |
| 07/2017 | Symposium: 1st Salzburg Mind-Brain Annual Meeting (SAMBA), Salzburg, Austria, July 13th – 14th 2017. |
| 06/2017 | Summer School: 2nd Annual DK 'Imaging the Mind' Summer School, 'Career Planning: From PhD to Postdoc', Salzburg, Austria, July 5th & September 13th 2017. |
| 06/2017 | Symposium: 3rd Symposium on Cutting-Edge Methods for EEG Research (CuttingEEG), Glasgow, United Kingdom, June 19th – 22nd 2017. |
| 03/2017 | Symposium: 3rd Wintersymposium 'Sleep, Cognition and Consciousness', Kaprun, Austria, March 2nd – 5th 2017. |
| 01/2017 | Winter School: 2nd Annual DK 'Imaging the Mind' Winter School, 'Bayesian Statistics and Cognitive Modelling', Eugendorf, Austria, January 25th – 27th 2017. |
| 10/2016 | Workshops: 'Lyon Active Inference Workshop (LAW) 2016' Workshops, Lyon, France, October 12th – 14th 2016. |
| 07/2016 | Summer School: Annual DK 'Imaging the Mind' Summer School, 'Public Relations & Data Science', Salzburg, Austria, July 1st – 2nd 2016. |
| 09/2016 | Conference: 23rd Congress of the European Sleep Research Society (ESRS), Bologna, Italy, September 13th – 16th 2016. |
| 06/2016 | Conference: 20th Annual Meeting of the Association for the Scientific Study of Consciousness (ASSC), Buenos Aires, Argentina, June 15th – 18th 2016. |
| 01/2016 | Workshops: 'Presentation Skills' Workshops, Salzburg, Austria, January 18th – February 1st 2016. |
| 01/2016 | Winter School: 1st Annual DK 'Imaging the Mind' Winter School, 'Brain Connectivity Measured with EEG and fMRI', Eugendorf, Austria, January 7th – 9th 2016. |
| 12/2015 | Workshops: Fieldtrip Workshops 'M/EEG Analysis in Tinnitus', Salzburg, Austria, December 9th – 11th 2015. |
| 11/2015 | Symposium: Tubingen MEG Symposium, Tubingen, Germany, November 2nd – 3rd 2015. |
| 09/2015 | Conference: Annual Scientific Meeting of the British Association for Cognitive Neuroscience (BACN), Colchester, United Kingdom, September 10th – 11th 2015. |
| 07/2015 | Conference: 19th Annual Meeting of the Association for the Scientific Study of Consciousness (ASSC), Paris, France, July 7th – 10th 2015. |
| 01/2015 | Symposium: 2nd Wintersymposium 'Sleep, Cognition and Consciousness', Kaprun, Austria, January 22nd – 25th 2015. |
| 09/2014 | Conference: 22th Congress of the European Sleep Research Society (ESRS), Tallinn, Estonia, September 16th – 20th 2014. |
| 06/2014 | Conference:  20th Annual Meeting of the Organisation for Human Brain Mapping (OHBM), Hamburg, Germany, June 8th – 12th 2014. |
| 09/2013 | Conference: the World Congress on Sleep Medicine (WASM), Valencia, Spain, September 28th – October 2nd 2013. |
| 09/2013 | Symposium: the Symposium in the Honour of Prof. Wolfgang Klimesch: 'Brain Oscillations and Cognition', Salzburg, Austria, September, 19th – 20th 2013. |
| 07/2013 | Workshops: 'An Introduction to Meta-Analysis for the Synthesis of Evidence' Workshops, Salzburg, Austria, July 3rd 2014. |
| 05/2013 | Conference: 5th Dubrovnik Conference on Cognitive Science (DuCog), Dubrovnik, Croatia, May 16th – 19th 2013. |
| 12/2012 | Symposium: 1st Symposium 'Sleep, Cognition and Consciousness', Salzburg, Austria, December 13th – 14th 2012. |
| 09/2012 | Workshops: 'Oscillation and Consciousness' Workshops, Strobl, Austria, September 28th – 29th 2012. |