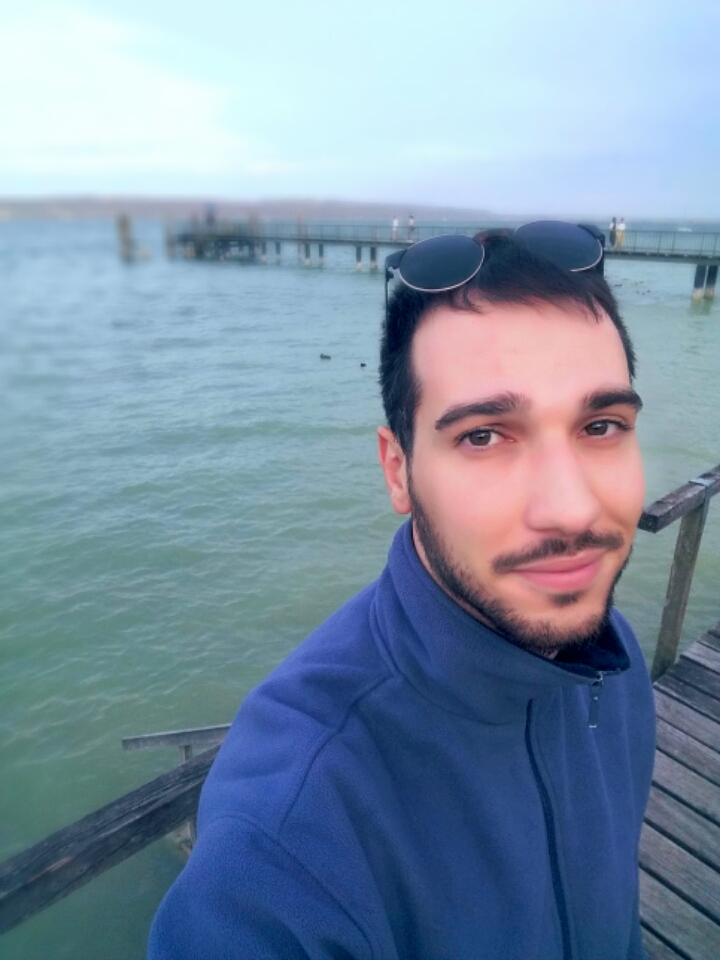 PERSONAL INFORMATION
Address
Hellbrunner Straße 34
5020 Salzburg
Austria
+43 (0) 662 – 8044 5146
pavlos.topalidis@sbg.ac.at
Web page
www.sleepscience.at
Date of birth
2th August 1993
Nationality
Greek
EDUCATION
since October 2019
Student of the Doctoral College "Imaging the Mind" funded by the FWF Austrian Science Fund (W1233-G17), University of Salzburg, Austria.
since October 2019
Ph.D. student at University of Salzburg, Austria, Centre for Cognitive Neuroscience (CCNS), Laboratory for "Sleep and Consciousness Research". Supervisor: Univ.-Prof. Dr. Manuel Schabus.
October 2017 –
September 2019
M.Sc. Neuro-Cognitive Psychology, Elite Network of Bavaria Program, Ludwig-Maximilians-Universität (LMU), Munich, Germany. Master thesis at Max-Planck Institute of Psychiatry on "The relationship between objective sleep and activity measures and symptomatology in a sample of healthy controls and patients with mood and anxiety disorders". Supervisors: Prof. Paul Sauseng & Dr. Victor Spoormaker.
October 2013-June 2014
Erasmus Scholarship at the University of Giessen, Giessen, Germany.
September 2012 –
June 2016
B.Sc. (Hons) Psychology University of Aberdeen, UK. Bachelor thesis topic: "The Visual Influence of Ostracism". Supervisors: Prof. Neil Macrae & Prof. Arash Sahraie.
2008-2011
3rd High School of Katerini, Katerini, Greece
RESEARCH  & TEACHING EXPERIENCE
August 2018 –April 2019
Research Assistant at the faculty of Psychiatry and Psychotherapy at Ludwig-Maximilians-Universität (LMU) in collaboration with the German institute of Brain Stimulation (GCBS). Supervisors: Dr. Daniel Keeser & Prof. Frank Padberg.
November 2018-
July 2019
Research Assistant at the faculty of General & Experimental Psychology Psychology, at LMU. Supervisors: Prof. Dr. Hermann Mueller & Dr. Marian Sauter.
April 2012 –
July 2013
Teaching Assistant in Advanced Statistics & SPSS Workshops at the University of Aberdeen, UK. Supervisor: Dr. David Sutherland.
INTERNSHIPS
June 2015
Trainee psychologist at the Mental Health Centre, Katerini, Greece.
Supervisor: Ms Nota Voura, M.Sc.
November 2016-
August 2017
Psychologist & Mental Health counsellor at the Hellenic Military Force, Greece.
PUBLICATIONS
| | |
| --- | --- |
| 2018 | Topalidis, P., Zinchenko, A., Gädeke, J., Foecker, J., (submitted). The role of spatial selective attention in the processing of affective prosodies in congenitally blind adults: An ERP study. Brain Research. |
| 2017 | Golubickis, M., Sahraie, A., Hunt, R., Visokomogilski, A., Topalidis, P., & Macrae, N. (2017). The visual influence of ostracism. European Journal of Social Psychology, 48(2), 0182-0188. |
| 2015 | Macrae, N., Mitchell, P., Tait, A., McNamara, L., Golubickis, M., Topalidis, P., & Christian, M. (2015). Turning I into me: Imagining your future self. Consciousness and Cognition, 37, 207-213. |
POSTER PRESENTATIONS
| | |
| --- | --- |
| July 2018 | Topalidis, P., Schenk, T., Röder, B., & Föcker, J. (2018, 05). Is the processing of affective prosody influenced by spatial attention in congenitally blind individuals? 4th Conference of Visual Search and Selective Attetnion (VSSA), Ammersee, Germany. |
 SOFTWARE SKILLS
General

Microsoft Office (Expert)
Matlab (Beginner)
Statistics
R (Intermediate)
SPSS (Advanced)
EEG acquisition
Brainvision Recorder (Begginer)
EEG data processing
Brainvision Analyzer (Intermediate/Advnaced)
EEGlab (Begginer)
Fieldtrip (Begginer)
Experimental control
Presentation (Beginner)
RESEARCH INTERESTS
 

Information processing during sleep: memory consolidation and sensory perception

Brain Oscillations
Psychophysiology