Be part of our research study
---
Sleep in MEG study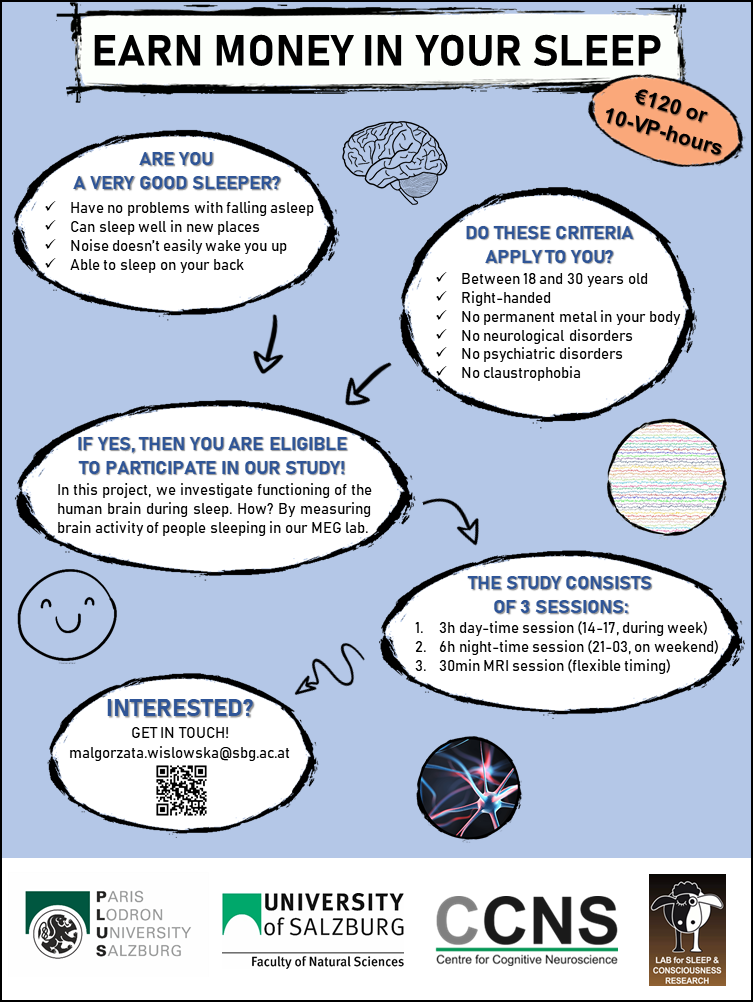 ---
MEG study with Minions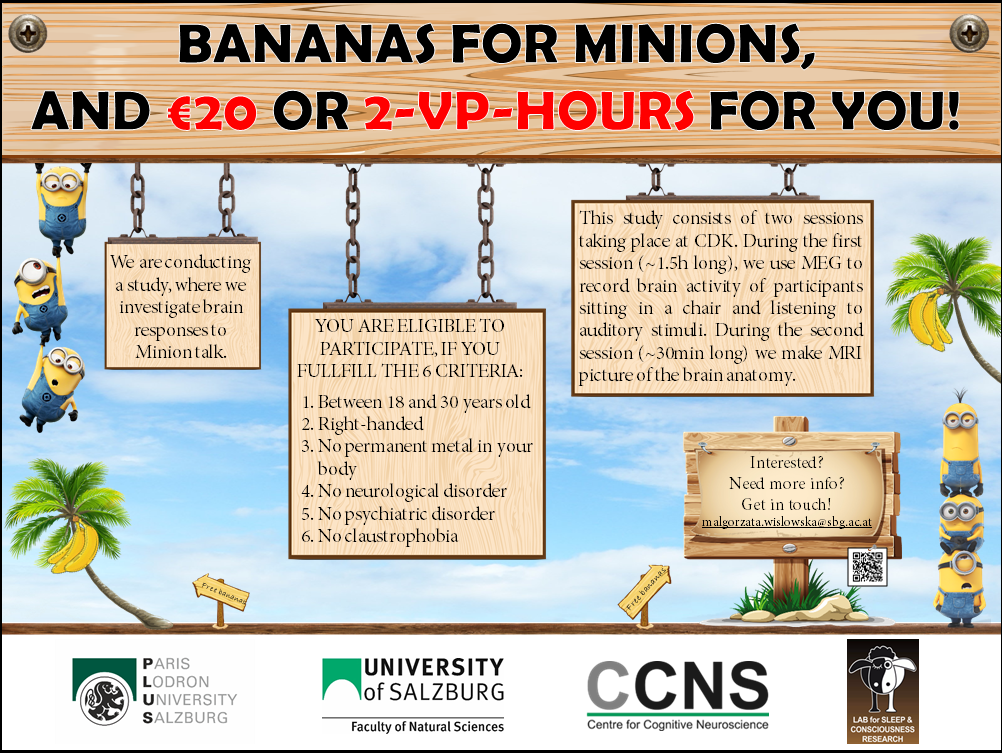 ---
Online – Survey: How do you sleep during lockdown?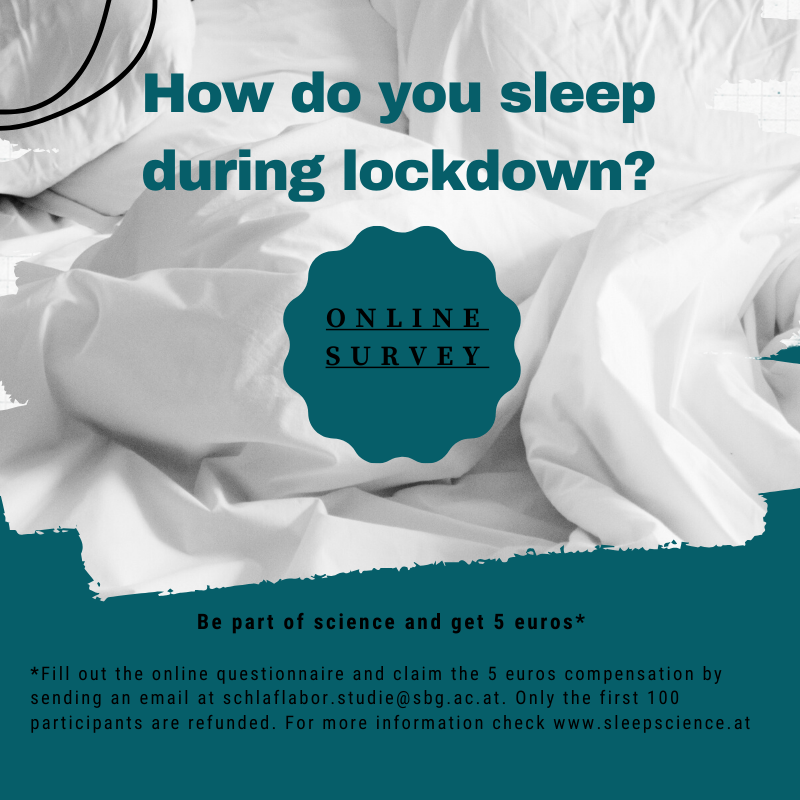 Hallo
🇦🇹
Здравствуйте
🇺🇦
Χαίρετε
🇬🇷
Hola
🇨🇺 Olá 🇧🇷

Be Part of science and help us to understand how sleep changes due to the global Pandemic COVID-19! Mail to schlaflabor.studie@sbg.ac.at and get 5€ for your participation!
Click here to participate:  German, English, Spanish, Greek, Ukraine & Portuguese
---
Intercultural sleep study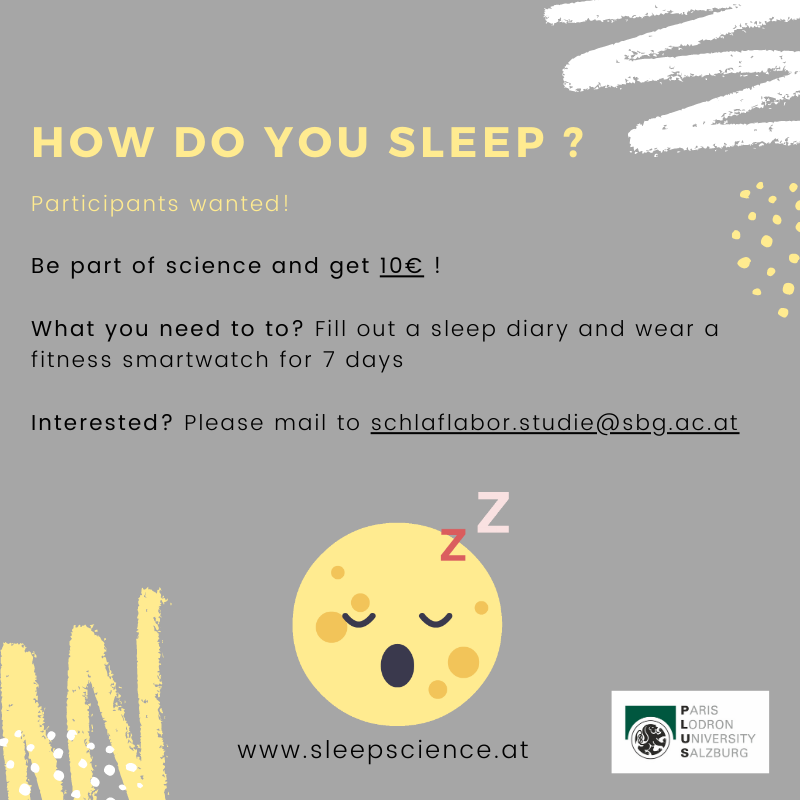 About the study: This study is intended to find out how the habitual sleep times, the activity levels and the subjective quality of sleep vary across different parts of the world.
Participate: if you would like to participate, we kindly ask you to fill out: – a one-time Entrance Questionnaire (please insert here the link that is already on the website), at the enrollment in the study, about habitual bed times, stress and activity levels, as well as other factors that may influence sleep quality. – a daily questionnaire after you wake up (Morning Protocol) (please insert here the link that is already on the website), which takes about 5-7 minutes. Additionally, participants will receive an actigraph: a small wrist-watch (Xiaomi MiFit 3 Fitness Band) that measures the activity level and, every 10 minutes, the heart rate. Based on this information, it can tell when you fell asleep, how long you slept, when you woke up and how active you were. The actigraph should also be worn for 7 days continuously. If you would like to wear the actigraph in addition to completing the questionnaires, please send us an email at schlaflabor.studie@sbg.ac.at.
More information: general information (EN) & informed consent (DE)
Questionnaire available in german, english, spanish and ukrainian.
Click here to participate:  Entrance Examination & Morning Protocol
---
Surveys on "How does Austria sleep (better)?

As sleep experts we meet many people with sleep disorders. Among them young and old people from all walks of life – from children to pensioners. There can be many reasons why we lose healthy sleep. But sleep is a basic human need. That is why it is important to us to translate new scientific findings for people with sleep problems in an effective and practical way. At NUKKUAA, we are working on helping people to sleep better without medication and giving them back access to sustainable, healthy and natural sleep. To achieve this goal, we at the University of Salzburg are currently trying to better understand how Austria sleeps and to identify the factors that lead to these sleep problems in the first place.
On http://www.nukkuaa.com we have created a short (about 5' minutes) survey, which covers all central areas of the sleeping habits and sleep problems of Austrians and immediately provides the user with (graphical) results.
At http://www.sleeplounge.net you will receive a more detailed (and also graphical) analysis of your sleep data, which we have divided into 4 topics: 1) Sleeping habits (7′), sleep problems (4′), questions about clock change and the use of digital media before sleep (5′), as well as an analysis of your morning/eveningness type (5′).
---
GesunderSchlaf.Coach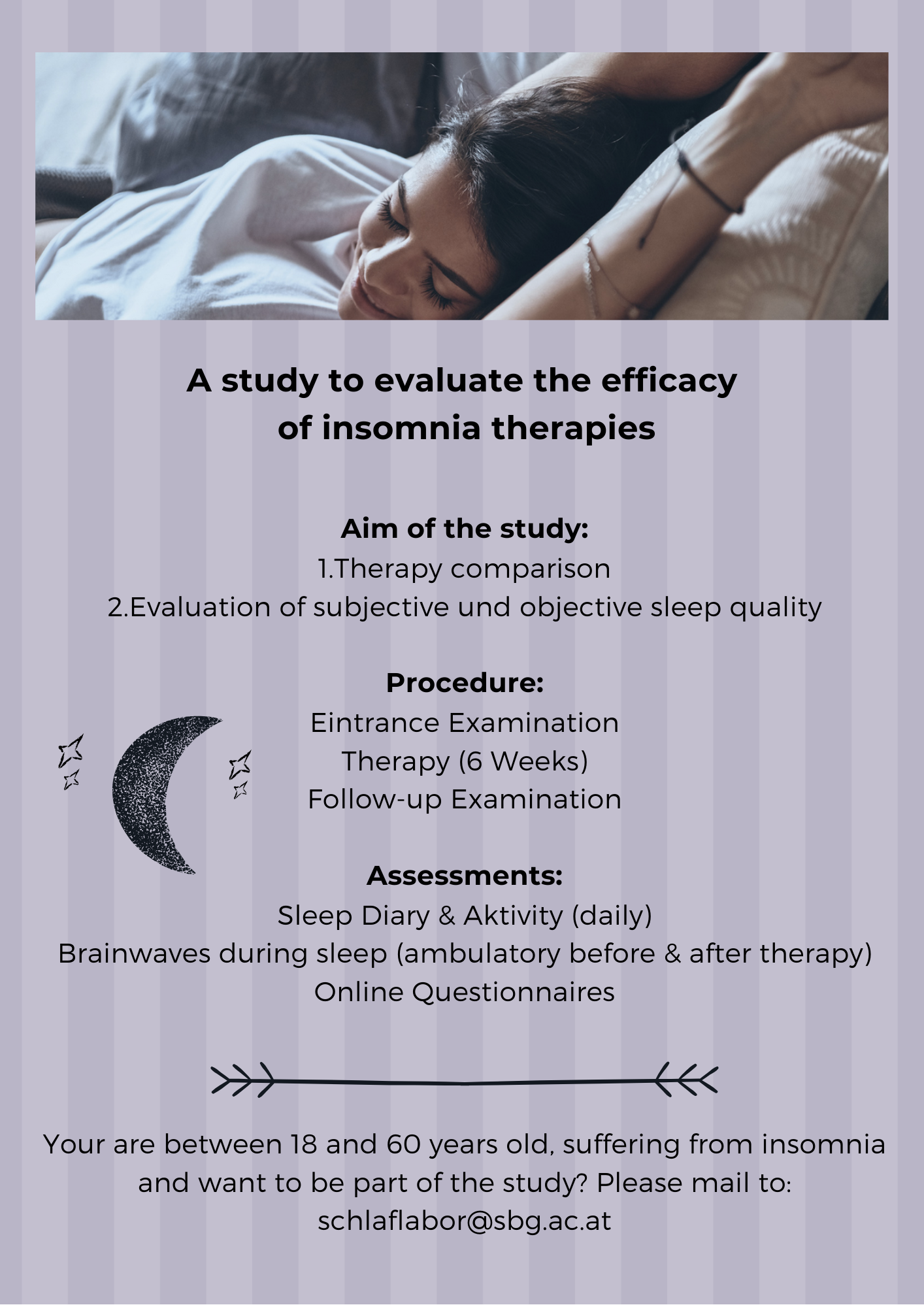 ---
Smartphone study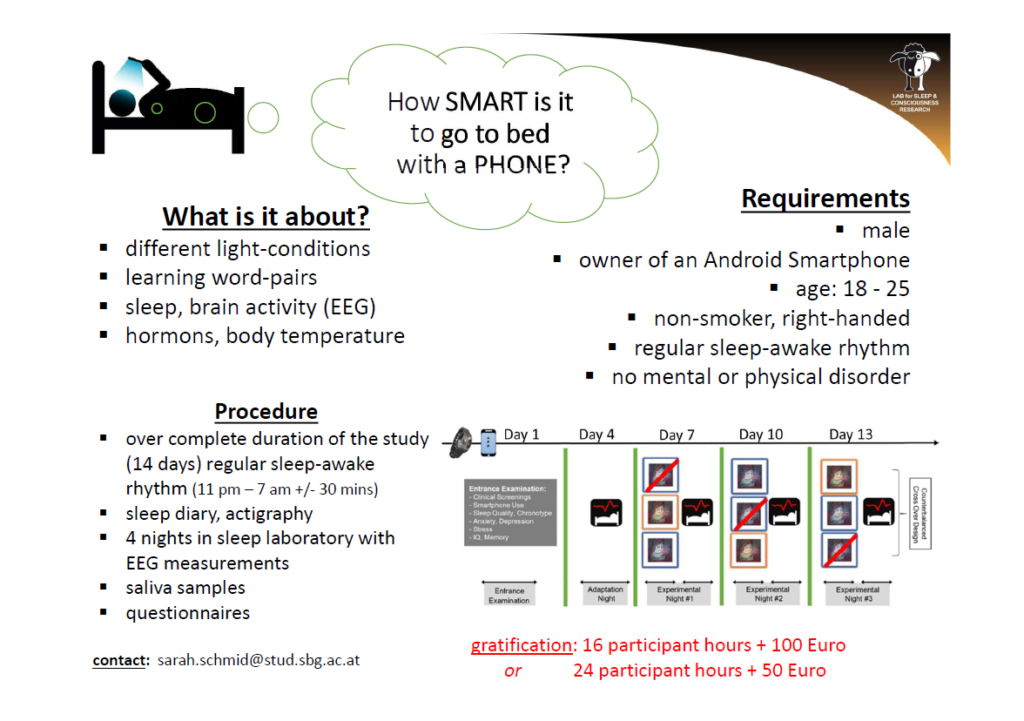 ---
Keyboard typing & sleep study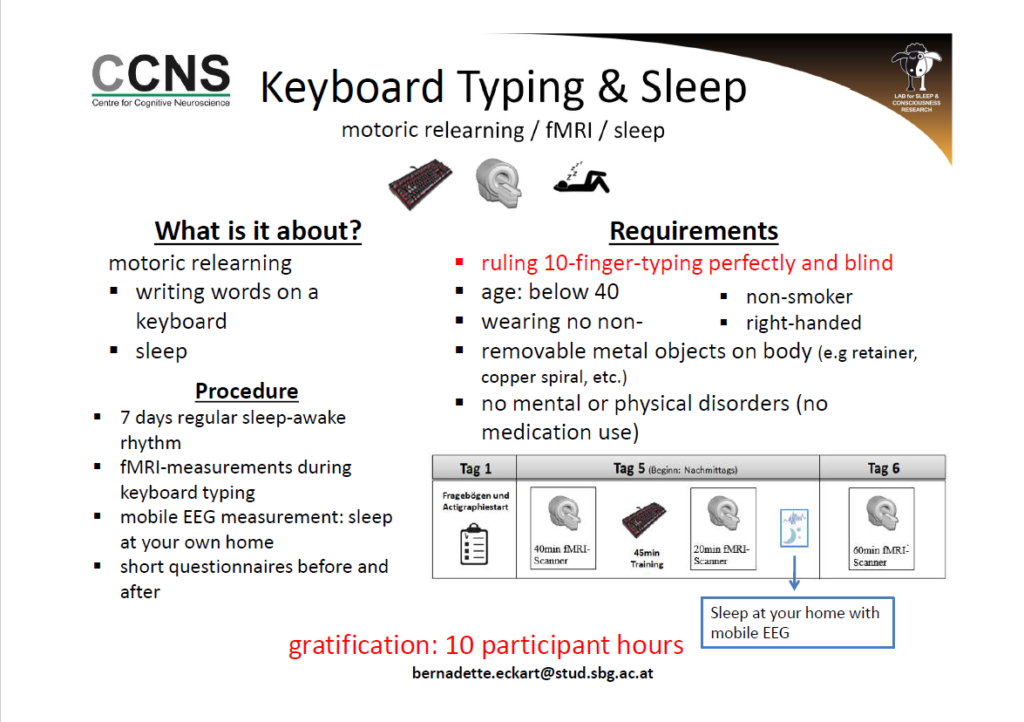 ---
Do you have any questions? Please write us an Email to schlaflabor@sbg.ac.at
Thanks for your support !!!